Welcome to My Final Cigarette .com
With the Top Hypnotherapist in Northern Ireland and Costa Blanca.
Alan Gilchrist
As featured on UTV - BBC - Sol TV
Stop Smoking in

under

30 minutes ...WITH GUARANTEE !
No Cravings - No Weight Gain - No Stress

Alan Gilchrist has been in practice over 25 years and is the longest practising and most experienced Hypnotherapist in the North of Ireland with additional Hypnotherapy Centres on the Costa Blanca, Spain.

Throughout this time Alan has helped well over 50,000 people at his Stop Smoking Centres to overcome their problems with the use of his "Fast Track Hypnosis System" particularly his unique Stop Smoking System

This includes several World Champions in various Sports and other fields, Actors, International Authors, Singers and Musicians, TV and Radio Personalities and members of the medical profession to help them overcome their problems, improve their concentration, self confidence, performance, ability to relax and quit smoking.
Alan also writes for several newspapers and magazines on Hypnosis and related topics.
What Is Hypnosis?
Hypnosis is only a state of relaxation and concentration at one with a state of heightened awareness induced by suggestion.

What Is Fast Track Hypnosis?
Fast Track Hypnosis is a technique that Alan created over the years which combines Hypnosis, Laser Therapy, (if required), and special audio and visual techniques in an exclusive package (unlike any other Local Hypnotherapist in the U.K or Spain) to very rapidly helps a person stop smoking in under 30 minutes as opposed to traditional hypnotherapy which can take much longer, sometimes up to 3 or 4 sessions.
Is this really going to be my final cigarette?
It is if you truly want it to be. People already know that if they stop smoking they will save thousands of pounds or euros over the year as well as adding years to their lives. So, why do they continue to smoke even after all the warnings from their doctors and advertising campaigns ?

The truth is cigarettes are a false friend that can eventually kill them !

Millions of people throughout the world have successfully stopped smoking using standard Hypnosis, and over the years Alan Gilchrist has helped many thousands of people to do so.

However, by using the unique combination of Fast Track Hypnosis & Laser Therapy the already high success rate of quitting smoking is increased even more!.
His advice to every smoker is the same : STOP NOW WHILE YOU HAVE TIME !
During his 25 years in practice he has heard many excuses for wanting to stop smoking, but the only reason should always be the persons health !

With his vast experience in dealing with people's smoking issues Alan has found the answer to be the same ...FEAR.

Fear they will finally have to give up their crutch or pleasure.


Fear they won't be able to enjoy life or deal with stress.


Fear they will put on weight when giving up.


Fear they will never be completely free of the craving
The beauty of Fast Track Hypnosis and Laser Therapy put together in this unique combination removes this feeling of deprivation. It removes the need, and the urge to smoke.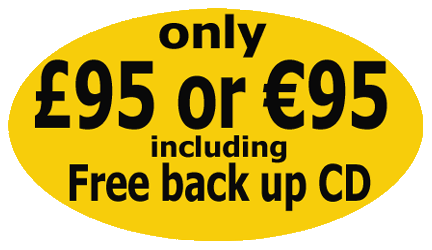 Hypnosis.


Minds eye courier


Laser light therapy

(See his Home page for more details);
By using the unique combination of all three together, this increases the already high success rate of using hypnosis on it's own, and all this is achieved in less than 30 minutes.

There is no need for those useless aids, gimmicks, or substitutes, No nicotine gum or patches, No inhalers or nasal sprays. It doesn't get much easier than that!

"Hypnosis is the most effective way of giving up smoking, according to the largest ever scientific comparison of ways of breaking the habit. Willpower, it turns out, counts for very little". (New Scientist, Vol 136 issue 1845 31Oct 92, pg 6)

Results included 48 studies of hypnosis covering 6000 smokers, were published in the Journal of Applied Psychology which clearly showed that hypnosis was three times more effective than nicotine replacement therapy
Fast Track Hypnosis and Laser therapy and you !
The Fast Track Hypnosis session targets the unconscious part of your mind that drives certain unwanted behaviours and urges. This in turn helps you to overcome everything that gets in the way to accomplishing your goal of finally quitting smoking, without stress or weight gain.

You may have tried the gum then started smoking again.

You may have tried the patch, took it off, had a cigarette, then put it back on again !

So the question is…ARE YOU READY TO FINALLY STOP SMOKING?

If the answer is YES then what are you waiting for?

Put down that cigarette and call NOW !

You can make this a reality in ONE simple 30 minute session !
So why opt for one type of therapy to quit smoking when you can now have two highly successful methods in a unique combination at no extra cost!

GUARANTEE. In the unlikely event of a client experiencing any difficulties within one month of the stop smoking session, and they require a booster session, this second session is completely free of charge.

Discounts available for group bookings ( All sessions still individual )
For an extensive range of problems that can be helped using Hypnosis / Hypnotherapy the Fast Track Way. Click here
For more information or a FREE initial consultation at one of his Hypnosis Centres in Northern Ireland or Spain.

Contact Alan Gilchrist on;

Northern Ireland - FREE PHONE 0800 7311187 or 02890 333303 9.00am -10.00pm

Spain - 659229408 9.00am -10.00pm

Email: info@alangilchrist.com